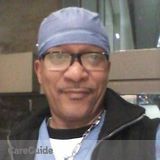 Robert L Jamison P
Personal Care for ENT & Chronic Wound Infection, NCV Diagnostics & Vascular Ultrasound
Los Angeles, California
Last seen over a week ago
25 years experience
3510/month
Want to connect with Robert?
Elder care in Los Angeles, California
I am a Behavioral Health Consultant and Medical Consultant for Alternative Healthcare LA and National Research Institute under the leadership of Juan P. Frias, M.D., a board certified endocrinologist and President of NRI.

Alternative Healthcare LA is comprised of independent Medical Professionals with a variety of experience in healthcare such as Surgery, ER, ICU, PACU, L&D Med-Surg and Diabetic Care. We also offer a team of healthcare providers that specializes in nerve conduction velocity studies, echocardiograms, vascular studies and other ultrasound imaging services. I wanted to introduce myself and provide some important information regarding our Neuro -Vascular Diagnostic Services for NCV and muscular ultrasound, Echo and Vascular Ultrasound testing. Our service is used by hundreds of clinicians across the United States to add value and income to their practice.

For over 20 years I worked as a fellowship-trained Physician Assistant in General, Neuro, CV, and Plastic Surgery. During this time I have worked 6 years with a Peripheral Vascular Surgery Group and for over 10 years have been a Wound Care Clinician, educating patients about non-invasive procedures for diabetic ulcers and chronic wound healing. As a (PA) and Medical Consultant for AHC LA, I am assisting the Cardiovascular and Neuro Physicians at the diagnostic center to identify patients who may need NCV and muscular ultrasound, Echo, or Vascular Ultrasound, testing and overseeing the Certified Technicians providing the diagnostics and exams.

We work with you simply by asking you or your staff to identify patients who have hypertension, diabetes, neuro or muscular issues, etc. With our program, you can schedule these patients for enhanced testing within your office once a week, twice a week, or once a month. Instead of sending these patients away for testing, you can have them tested for Neuro, muscular, and vascular issues within your own office. We gain approval through each patient's insurance for NCV and muscular ultrasound, Echo, or Vascular Ultrasound, and whatever testing you decide to offer your patients. Once we have insurance approval, we send our certified technicians to your office with our equipment and reserve one exam room for either a half a day or full day of testing. Each patient requires about 1 hour of testing time. We help guide you through the entire process and recommend what test to offer your patients.

The Neuro-muscular or vascular test results are read and interpreted by our Board Certified Cardiologists and Neurologists and a copy of the report is sent to you to keep with each patient's record. You may use the interpretation to continue treating each patient as you were with the test results used to back your diagnosis and treatment plan or you may choose to conduct further testing or refer your patient to another specialist if needed. Use the tests results just as you would any other diagnostic testing tool. Your patients will appreciate the ability to have specialized testing conducted within your own office and testing will help support the quality of care that you offer your patients. For more information and to schedule a patient for an initial appointment please contact me asap.


A Dedicated and accomplished doctorally-prepared healthcare executive, with demonstrated leadership in complex operations over multiple departments in developing, implementing, and achieving improvement in evidence based patient care practice. Expert at management development, delegation and promotion; ensuring collaboration with physicians and nurses in continuing improvement in delivery of quality patient centered care in a cost-effective manner; while implementing the philosophy and administrative objectives of large and small organizations as applied to nursing services. Highly developed interpersonal and strategic planning skills, complemented with advanced education in corporate fulfillment, ethics, workplace regulation, patient safety and advocacy, accreditation, compliance, and licensing. Progressive nurse staffing leadership experience at leading hospital organizations nationwide.

As a Medical Consultant for NRI, I am assisting the physicians at the research center to identify patients who may need free diabetes care as well as patients who may be interested in participating in clinical studies. NRI is a clinical research center with 2 locations in the Los Angeles Area: MacArthur Park and Huntington Park. Founded over 25 years ago, NRI specializes in conducting late-stage, outpatient clinical trials in patients with type 2 diabetes. Over the years, NRI has worked with multiple major pharmaceutical companies and biotech partners to help bring new medications to patients through clinical research.

For clinical study participation, patients must be over 18 years old and have a diagnosis of diabetes. The physicians and their staff at NRI will discuss the research study with interested patients, including all potential risks and benefits. Patients who qualify for a study will receive compensation for time and travel during study participation (usually 6-12 months, but this varies depending on the study). Patients in studies continue to receive medical care on routine basis from their primary care physicians. If you have any patients who may be interested in clinical studies I am your resource for getting connected with NRI. Whether patients are ready to participate in a study or just want to learn more about clinical research, I can help. Importantly, health insurance and referrals are not required to be seen in the free clinic or to participate in a study. Also, taking part in a research study is completely voluntary.


Currently serving as Chief Executive Officer in a Corporate recognized rural community healthcare systems while serving as a national board member for Alternative Healthcare LA and completing a Certificate in Hyperbaric Medicine at the American College of Hyperbaric Medicine. Published by the Memphis Business Journal for starting a multi-faceted business for IV management. We offer Diagnostic Solutions for Chronic infections in ENT and Respiratory and use the state of the art DNA Technology with Pyrosequencing for diagnosing Biofilms.

Bacteria can grow as individual, planktonic organism or as complex biofilm communities that are more resistant to treatment. Biofilms have now been shown to play a role in many infections, including: recurrent acute otitis media, otitis media with effusion, cholesteatoma, chronic tonsillitis, chronic rhinosinisitis, and infections of tracheostomies, endotracheal tubes, tympanostomy tubes, pulmnary infections in cystic fibrosis and chronic bronchitis.

We offer DNA guided, personalized medicine for wound care. We tailored treatment and medication to address the individual wounds concerns and precise treatment expediting the healing 2-5 times faster in most cases. The average 168-day diabetic foot ulcer, we are bringing down to 32 days. The molecular test and the antibiotic are covered by Medicare, Medicaid and private insurance.This is the ONLY testing that will determine with 99% certainty what microbes may be slowing the patients healing progress. The DNA Diagnostic will identify all bacteria in the wound. If the Diagnostic tool is flawed, so will the antibiotic selection, affecting the patients healing.

"We Diagnose and Treat, not trial and error" Our healthcare organization is home to one of the premier referral agency in Los Angeles county and offering nationwide woundcare assessments. Our Laboratory is a CAP Accredited, CLIA Licensed Clinical Diagnostics Laboratory and provides physicians with the most advanced molecular based microbial testing available.

For more information regarding our Molecular Diagnostics for Personalized Medicine call 213-258-... and speak to our woundcare clinician Robert L. Jamison, PA, PhD, WCC, CRA or visit our website http://....com our plan of treatment make a difference in Chronic Wounds, ENT and Respiratory Infections......
---
Availability
Want to connect with Robert?
---
Services
---
Qualifications
CPR
First Aid
Want to connect with Robert?
---
Similar Profiles Nearby
Near Los Angeles, California

Rama Healthcare S
Nursing Staffing Agency.

Rosalinda C
Searching for a Senior Care Provider Job in Los Angeles, California

Valerie C
Caregiver/Housekeeper in the Los Angeles

Brigitte S
Seeking a Senior Caregiver Opportunity

Margarita B
My name is Margarita I offering Elder Care Provider in Bakersfield
Find Elder Care in Los Angeles, California
More in Los Angeles, California
Want to connect with Robert?
Similar Profiles Nearby
Near Los Angeles, California

Rama Healthcare S
Nursing Staffing Agency.

Rosalinda C
Searching for a Senior Care Provider Job in Los Angeles, California

Valerie C
Caregiver/Housekeeper in the Los Angeles

Brigitte S
Seeking a Senior Caregiver Opportunity

Margarita B
My name is Margarita I offering Elder Care Provider in Bakersfield