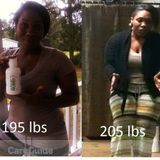 Jessica B
Healthcare Products Representative (Customer Service)
Sanford, North Carolina
Last seen over a week ago
3510/month
Elder care Job in Sanford, North Carolina
Joining this company will not only change your health, but it will also change your bank account as long as you commit to becoming a healthier you and sharing your story with others. Let me share my story with you.

The doctors told me I was pre-diabetic. By drinking tea from this company, my body was able to properly regulate my insulin levels so that I no longer show signs of being insulin-resistant. Raising 4 kids mostly on my own was wearing me out! Exhausted is an understatement. Then I started taking Nutraburst and now I have all-day energy (without a drop of caffeine). I was overweight as well; I weighed 205 lbs at a height of 5'4". I ran for a whole month and lost a total of 8 measly pounds. I've only been taking the Resolution for 1 week and I've already lost 10 lbs. This is how this company has changed my health. But how did joining change my bank account? Well, keep reading....

Before joining the company, I was an online English instructor, a professional tutor for Tutor....., and a writer for Hubpages. I still do all 3 of these jobs and while all 3 streams of income are good, I was still living from paycheck to paycheck, struggling to pay the mortgage and my car note. And then I joined Total Life Changes--and to be honest, the only reason why I joined was so that I could get my product half off :) . I had no intention of working the sales side of the business because I've never been good at sales. But what's so great is that with this company, you don't have to sell anything. All you have to do is try their products and let the products sell themselves.

The company will mail you a check for simply trying their product, and then all you have to do is tell somebody how well that product worked for you. Almost instantly, the person will say, "What product did you use and how do I get it?" When they ask this question, you simply give them your personalized web address (mine is www.....com) and tell them to join the company when they purchase the product b/c by joining, the company will send you a $20 sign-on bonus check, and then they will also mail you a check for 1/2 the price of the product that you purchased.

For example, if you purchase Nutraburst at $44, they will mail you a check for $22. If you purchase the Resolution at $79, they will mail you a check for $40. But here's the great part. If you tell someone about a product, let's say your mother or your best friend, and they buy the product from your site, the company will mail you a check for 50% of their purchase too, and the residual income just keeps coming in. Now granted, you don't have to join the company in order to buy a product. You can simply buy the product, use it, and keep it moving--but why not make money off the product you're buying? You might as well join!

Joining this company is a win-win situation. The lady I joined under joined back in November of 2014 and she's already making $900 per week. Imagine making that kind of money. Imagine the elevation of your lifestyle and never having to live paycheck to paycheck again!

A little about the Resolution:
-weight loss drops that you drop under your tongue and hold for 15 seconds so it can absorb; do this 3x a day
-see significant weight loss in a short amount of time
-all-natural ingredients
-people lose between 25 - 50 lbs in one month

A little about Nutraburst
-this is a liquid vitamin that gives you all-day energy
-1 Tbsp of this product is the equivalent of eating 10 salads
-has all the vitamins, minerals, antioxidants, vegetables, fruits, and amino acids that your body needs to function correctly
-no caffeine
-feel energy almost immediately after digesting

A little about the tea (this is the company's bestselling product)
-detoxing tea, removes toxins from body
-lowers blood pressure
-regulates insulin
-completely cleans out your intestines
-takes inches off your stomach area
-helps eliminate migraines
-reduces allergy and asthma flare ups
-helps with constipation and any kind of digestive issue
-and lots more!

If you are interested in joining this company or learning more about any of the products that they offer, please email me or call/text me at 91o.779.3o36 (Jessica).
---
Services Needed
---
Similar Profiles Nearby
Near Sanford, North Carolina

Csaba S
Home Caregiver Wanted in Charlotte

Sophia B
24 Hour Live-in Care needed for 78 year old woman with Alzheimer's Rocky Mount, NC

Kay R
UPDATED! Searching for Patient, Loving Caregiver for 89-Year-Old Mother
Find Elder Care Jobs in Sanford, North Carolina
More in Sanford, North Carolina
Similar Profiles Nearby
Near Sanford, North Carolina

Csaba S
Home Caregiver Wanted in Charlotte

Sophia B
24 Hour Live-in Care needed for 78 year old woman with Alzheimer's Rocky Mount, NC

Kay R
UPDATED! Searching for Patient, Loving Caregiver for 89-Year-Old Mother